Commercial bin cleaning Warrington & Cheshire

The need to maintain high standards of hygiene in the workplace has lead to an increased demand for effective cleaning & disinfecting of commercial waste containers. Our clients encompass all industry sectors from Food Handlers to Housing Managers.
All food handlers should use a commercial bin cleaning service.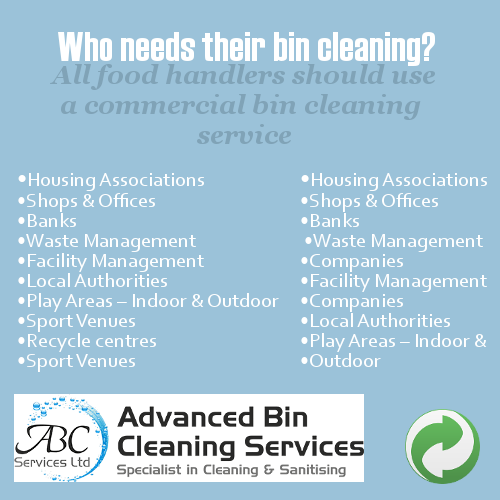 Benefits of our Commercial Bin Cleaning service
Eliminates Pest Infestation
Minimise offensive Odours
Reduces risk of Cross Contamination
Minimise offensive Odours
Reduces risk of Cross Contamination
Improves Hygiene Standard
Problems caused by unclean commercial bins
 Dirty bins attract rats
Risk of fly infestation
Bacterial breeding ground
Offensive odours
Other advantages
The cleaning and sanitising process can also be extended to include Bin Store Areas
We have the Cleaning Equipment to Clean your Bin Area to keep it hygienic and Rodent free
Quote from the BBC
"The North West's rat population has increased by twice the national average in the past year.
Rats spend less time in the sewers and more in our rubbish
Experts estimate that there are now 60 million rats in the UK.
That's one for every person.
There are many possible reasons for this increase:
Mild winters
Cutbacks in pest control expenditure
Increase in takeaway food shops and food litter
But the biggest reasons is our rubbish – the increase in it and often careless disposal of it.
Whether it's throwing our chip paper on the floor or leaving bags of rubbish outside – disease-carrying rodents thrive on it."
BOOK A BIN CLEAN TODAY: 01925 823 573 – 0800 0385 888